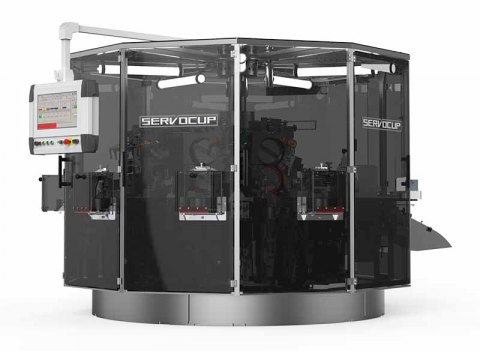 After being awarded the Global Flexo Innovation Awards Miraclon 2019 prize, (www.converter.it/litalia-eccelle-ai-global-flexo-innovation-awards-miraclon/) for best flexographic printing quality on solid objects, Servocup Wet on Dry reaffirmed itself as the one truly unique flexographic machine on the market, thanks to its innovative WET ON DRY printing technology.
With SERVOCUP WET ON DRY we offer a solution that goes beyond to boundaries of Wet on Wet printing.
The machine employs a WET ON DRY process on plastic containers of truncated conical shape which ensures the highest accuracy of colour registration, with each single colour cured before the next one is applied.   Owing to this INNOVATIVE process, UNIQUE in its market sector, SERVOCUP WET ON DRY achieves direct printing of true photographic quality on containers. Labels, in-mould labels or shrink sleeve labels are no longer needed, with all the benefits that this entails; in particular:
•    A substantial decrease in costs (30% or higher cost reduction for decorated containers)
•    The elimination of intermediate components (labels, in-mould labels, shrink sleeve labels, etc.)
•    A more flexible and manageable process (with intermediate components and disposal issues no longer a concern.)
SERVOCUP WET ON DRY is an extremely flexible machine, easily adaptable to a wide range of containers, from small to large diameters, for the food industry (dairy and other food products, customised cups and containers for sports or other events) but also for different sectors, such as paint, sealing or insulation paint containers.
This is, without a doubt, a machine that revolutionises its field, offering plastic converters not only the above-mentioned advantages but also the opportunity to diversify and stand out on the market.
The great public success obtained at the K 2019 trade show supports our aim to constantly evolve our technologies, in order to keep on achieving exceptional results that will satisfy the market's increasingly demanding requests.