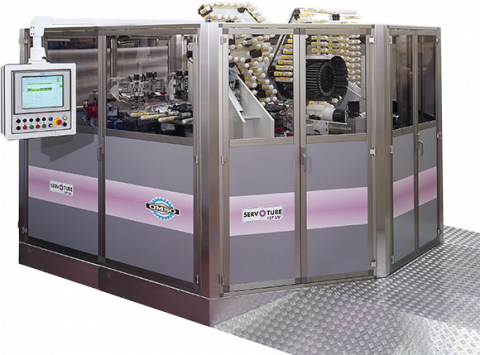 Servotube tube machine, high-quality combined printing machine on tubes and sleeves, becomes even more Hi-Tech and the latest upgrades open up new and interesting application fields.
These new options, specifically designed to meet the continuous market evolutions, enrich a platform already winning since its introduction and confirms Servotube137 as one of OMSO Best Sellers for more than 10 years.
News are listed in detail below:
Up to 8-colour printing + high-speed lacquer on laminated tubes and sleeves.
Automatic laminate joint detection with camera and dedicated software, this ensures the chance of positioning the decoration in relation to the joint with high precision and repeatability.
Anilox lacquering unit to keep a calibrated and continuous lacquer thickness on the whole tube/sleeve surface, even at 200mm printing heights or higher.
Variable data printing, with digital UV-ink head, easy-to-use and data input to be printed. Perfectly replaceable with a Flexo printing head or a Silk-screen printing head.
Vision system for a high-precision quality control.
All described options can be implemented and combined with flexo and silk-screen printing stations.  Much more customised configurations are possible; Servotube137 becomes definitely much more complete and versatile.
It ensures a very high-quality decoration result both for image resolution (photographic effect) and for surface finishing (brilliant, matt and soft-touch effect).
Moreover, the input of the variable data management is the answer to an important market need: the product traceability.
Being aware that the standard industrial traceability of products is a key factor and a valuable tool of competitiveness.